Poundbury has a long history of providing support services to telecommunications companies but Hush !! – it's a secret
With our extensive experience of building Internet Protocol ( IP ) Networks we are often called in to support leading Telco's but they don't and we don't advertise it
In earlier blogs we have spoken about our National IP Network and how important this is when migrating to the cloud. Our experience of building telecommunications networks goes back to the nineties when our Technical Director, Mike Jenkins, built a number of national and even global voice and data networks for end users and resellers.
Back then many companies still had separate voice ( telephony ) and data ( computer )  networks and many companies were migrating voice, video and data onto a single network. ( Although even now there are  many considerations to take into account before doing so ).
An enormous amount of planning and preparation has to take place before a companies telephones and computers can be migrated onto a single network.
Probably we are best known in the Dorset area for working with Small, Medium and some Large  businesses. In the past Mike, particularly, worked with all companies from Small to Global Enterprise.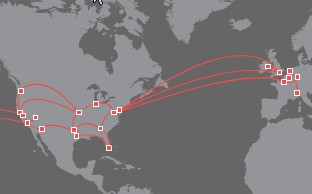 It has always been our philosophy to ensure that the same standards and " Best Practice " implemented in corporates is also delivered to the smallest company that we work with.
It is no surprise therefore that we are often called in to support National and Global Telecomms companies or companies with National and Global networks.
Again, we will not go into the detail of that work but it is mainly to do with the infrastructure that supports voice, data and video communications and of course, in the case of telecommunications companies they are typically supporting 100′s or 1000′s of clients themselves.
Often these companies are " Niche " Telco's i.e. they are often excellent in providing services to a particular segment of the market. This could be related to, for example,  mobile ( phone ) communications or country to country communications.
Much of our work in this area is " Word of Mouth " recommendations or people moving from one company to another but usually in a similar role.
For more information on this rather mysterious side to our business please call Clare on the usual number .